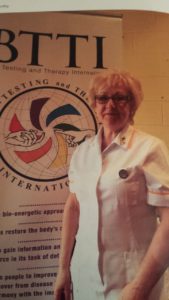 Mrs Margaret McCarthy L.C.S.P. (Phys)
COMPLEMENTARY MEDICAL THERAPIST.   –     E.A.P. Consultant.
Member of – N.H.S Directory of Complementary and Alternative Practitioners and The General Council for Massage Therapy.
Margaret worked and trained with Fr Fox over many years. She has been in private practice for over thirty-five years and is a qualified Remedial Massage Therapist. Margaret's focus is on the lymphatic system since her clinical experience has shown that the lymphatic system is seldom free of impurities in the normal person and is the missing link in the cause of physiological faults that lead to degenerative disease. She has written a book based on her clinical observations entitled "Lymphatic Therapy for Toxic De-congestion" (published by Churchill Livingstone), upon which her courses are based.
This course began by introducing the theory that congestion within the lymphatic system may be a cause of bio-energy disturbance. Margaret demonstrated how to identify the cause of this disturbance in order to limit physiological malfunction within the body. Once the cause was identified, Margaret then demonstrated her integrated approach, which included various techniques, to re-balance the body's bio-energy. These combined techniques relieve the symptoms of ill-health by de-congesting the lymphatic system and include massage, reflexology, homeopathy, Bach's Flower remedies and a variety of exercises.
The workshop was full, practical demonstration of Margaret's integrated approach with hands on self-help techniques for you to take home.
Topics covered included:
Subtle energy fields and the role of the bio-electrician in correcting faulty energy fields
How powerful is E.A.V?
Case history
The nervous system
The body's filters
The de-congesting techniques
Reflexology points in treatment as taught by Freddie Fox
The Emotional aspect of health in treatment – Bach Flowers and affirmations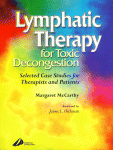 Margaret wrote this book based on her clinical experience and to address the growing interest in lymphatic therapy, the book describes various simply techniques to use with different symptoms that are very effective and economical.
Testimonial
Noelle, Catherine and Rita