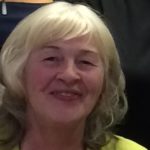 Christina was one of the students who enrolled on the very first Bio-Testing and Therapy course hosted in Crossgar, County Down. Northern Ireland in 1993.  From  the very first course she was in smitten and learning the therapy became a passion, as it took her deeper into Homeopathy and the world of subtle energy, which she finds fascinating.
Freddie Fox taught us that alternative medicine is the care of the whole person, not just on a physical level, but including the emotional, mental and spiritual levels.
After training in many therapies Christina has come to believe all these systems interrelate and dysfunction on any one level can lead to disorder in other parts of the body.
When this is acknowledged we can then also recognize the body's unique capacity for self-healing – It is just a wonderful miracle!
Christina is honoured to be a facilitator of Bio-Testing and Therapy and only hopes that she can instil in her students a little of the magic Freddie gave her.
Having been involved with the Bio-Testing and Therapy International group for over 20 years  she has had many life changing experiences, met a lot of wonderful and inspirational people as well as making many good friends.
As part of her facilitators training Christina wrote a piece on an aspect of Bio-Testing and Therapy she feels is very exciting.